How the electric see-through fireplace connects rooms and families - video
4 min read
This young family from Alkmaar (Netherlands) needed more living space for themselves and their three children. The decision to renovate and expand their corner house in the centre of Alkmaar with an extension was therefore quickly made. Part of the outer wall disappeared and a beautiful passageway to the new area of the house separated by an electric fireplace was created. This created a spacious dining area and a place for the children to play. Watch the video and see the result of this renovation project.
Atmosphere and connection
To still maintain the connection between the new and already existing living area, the family wanted a see-through fireplace. After visiting fireplace specialist Rietveld in Westknollendam, Netherlands, they were convinced of the atmosphere, convenience and safety of an electric ambient fireplace. The Faber e-MatriX Mood 800/500 See Through is now the perfect link between the family's living room and the children's playroom. For now, the extra space also forms an ideal home office for the parents and in the future, a perfect study area where the children can do their homework undisturbed.
More time for fun things
In Alkmaar, the family now enjoys a beautiful, atmospheric fire created by water vapour and LED lights that is significantly easier to maintain than a traditional (gas) fireplace, as there is no need for a flue and minimal upkeep. Now, there is more time to spend with the family and enjoy an evening in front of the fireplace even more.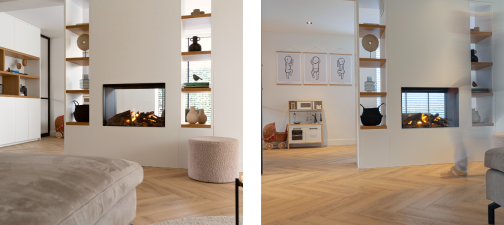 "Look, a traditional fireplace sounds nice, but we have three children. It gets really hot and a fireplace like that also costs you a lot more time."
Safe play environment
Besides energy efficiency and easy maintenance, the electric fireplace especially provides a safe environment for children to play. In fact, it forms the perfect see-through from the living room sofa when the children are playing. Also, the glass does not get hot, so they cannot burn themselves.
Immerse yourself in the cosy atmosphere of this family home and experience for yourself the warmth and comfort offered by their new electric fireplace. Whether you're looking for inspiration for your own installation of your see-through fireplace or simply have a passion for beautiful interior design, you won't want to miss this video.
Faber e-MatriX, the electric ambient fireplaces of the future
A Faber e-MatriX electric fireplace fits any situation, in any interior. In this series of short video reports, satisfied e-MatriX customers are pleased to tell you more about their personal experiences with Faber's electric e-MatriX and their reasons for buying it. Also want to experience the fascinating fire view of our electric fireplaces? Find your nearest Faber dealer here.