A 100% future-proof fireplace: LED's go!
5 min read
A 100% sustainable world would be completely emission-free. It may seem far away but that mustn't stop us from moving forward. Did you know for example, that a sustainable home can still have a fireplace? One with lavish 'flames' ?
Sustainable fireplace
Tomorrow's fireplace is low-energy and emission-free. Of course the real flames of a wood fire are beautiful, but the combustion process releases fine dust and CO2. Good gas fireplaces are an efficient source of heat but our modern-day houses are often already equipped with central heating, so that the extra heat is no longer necessary.  
So what's the alternative? A fully electric fireplace, but one with flames that you won't be able to distinguish from the 'real deal'. And it's here. The Faber secret? Water mist and economic LED lighting. This low-energy technology makes fireplaces sustainable, as there are no emissions at all. And even more so if the electricity itself has been sustainably generated.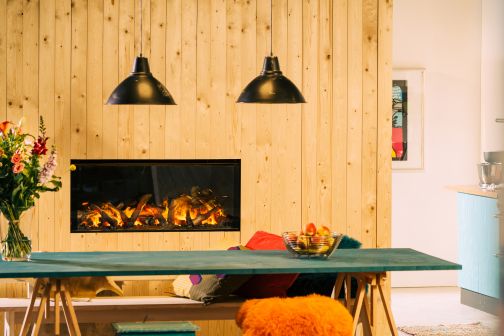 Want to see water burn?
However unlikely it might sound, the Faber electric fireplaces genuinely bring that authentic cosiness of a wood fire into your home. The wood logs really look like they're burning and they glow beautifully red. Isn't that exactly what you'll need when all houses are sustainably heated in the future? The illuminated cold water mist flickers like real flames to create an authentic fire. One click of the switch allows you to simply adjust the degree of cosiness and even the colour.
Whether you live in an urban apartment, a villa or a tiny house.
Flexible fireplace
No emissions also means: no need for a chimney. That makes the installation process a lot simpler. Forget gas connections and piles of wood. These electric fireplaces can theoretically be installed anywhere you like. Whether you live in an urban apartment, a villa or a tiny house. As long as you have a water supply and a standard wall socket in the room, you can enjoy this cosy and environment-friendly fireplace.
Could a future-proof electric fireplace be just your thing? Read more about the options here or visit your local Faber dealer.