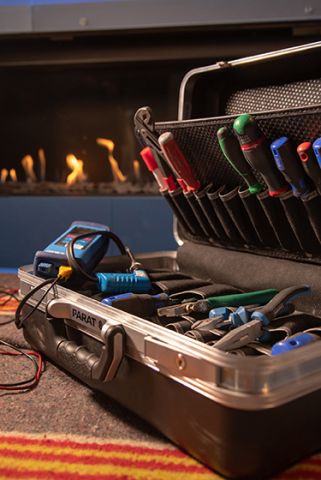 Service and Maintenance
It is important that you maintain your fire properly to ensure everything is in top condition and completely safe. It guarantees continued optimum enjoyment of your Faber fire.
Maintenance by you
To enjoy the beautiful fire, it is important to clean the panes. Only use the special Faber cleaning products. We recommend the Faber glass cleaner that protects the coating and cleans quickly and properly. Check the manual of your fire!
Professional maintenance
You need to perform a periodic check of the fire (gas and electric). Contact your Faber dealer to make an appointment.
Service
Do you have problems with your fire? You can contact your Faber dealer or make an appointment with an engineer.
Craftsmanship & Safety
Carbon monoxide free
From 1 April 2023, all installation companies operating in the Netherlands, working with gas combustion plants must be CO-certified. Companies without a valid certificate will no longer be allowed to carry out work on gas combustion plants. They are in violation if they do. All our mechanics and service staff hold a Certificate of Professionalism CO. For all our dealers and service partners, they are responsible for the correct certification themselves. By consciously choosing a company that is CO certified, you are assured of safe installation and maintenance of your fireplace.

Want to get in touch?
Do you have any questions, comments, or requests that you'd like to share with us?
We would be pleased to hear from you and offer you any assistance we can.