How up to date is your idea of an electric fireplace?
4 min read
Does an electric fire conjure up images of a crackling wood fire on your TV screen? A whole new world is about to open up for you! Today's electric fireplaces are incredibly lifelike and at least as addictive as your favourite TV series.
Goodbye pixel, hello mist
Water and fire tend to be seen as being opposing forces, but quite the opposite is true in the latest Faber electric fires. After all, Faber has created that fireplace experience previously only possible using gas or wood, but now using water mist. No more pixels on your screen, but rather a swirling water mist forming flickering flames thanks to innovative LED technology. It's almost impossible to see the difference between this 'electric fire' and an authentic wood fire, including the feeling of warmth. You won't believe your eyes!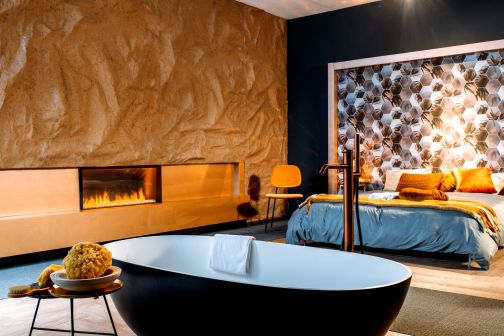 Turning up the heat
These electric fires are so convincing that they often provide a great alternative for a fireplace with real-life flames. At Faber, we'd happily stick a finger in that flame to prove our point. And it wouldn't be a problem thanks to these electric fires, because the only heat generated comes from the secondary electric heating which you switch on and off as needed. Extra comfortable and efficient at the same time! And no need to worry about smoke getting in your eyes: because there isn't any. You can happily get 'on top' of the fire to unravel the mystery.
Flames of the future
An electric fireplace without any emissions is good for our planet. Yet it still brings no end of warmth to your home. In terms of atmosphere, first and foremost. And not literally, because isn't that why we enjoy the convenience of our central heating nowadays? Our fires can be incorporated almost anywhere; a wall socket and water supply are all you need. There are endless possibilities when it comes to the design, decoration and finish.
So now you're completely up-to-date again on electric fireplaces, for today ... and tomorrow.