The electric fireplace, centrepiece that brings the whole house together - video
3 min read
To add warmth and atmosphere to their gas-free new-built urban villa in Zandvoort (Netherlands), this family recently installed a beautiful electric ambient fireplace from Faber Fires. In this video, they take you on a tour of their beautifully designed living space and share their thoughts on the installation of the 100% electric fireplace.
Centrepiece of the room
From the moment you step into the room, you feel the cosy atmosphere the fireplace brings to the space. The Faber e-MatriX Mood 800/500 III is now the perfect centrepiece that connects the whole house. A fireplace that is certainly not inferior to the fire experience of a wood or gas fire, according to the Zandvoort family. For them, the electric fireplace leaves nothing to be desired in terms of atmosphere.
A natural layout
The family wanted the fireplace to be visible from the sofa and the bay window, which offers a lovely place to retreat to with a good book and a cup of tea. An electric fireplace with glazing on three sides was therefore the ideal choice. The family's desire for a peaceful and quiet space led them to create a walk-through on the left side, creating a natural layout in the house.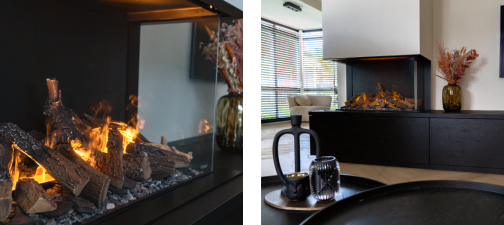 "The fireplace was to located centrally, so it could set the mood for most of the house. The fireplace is visible from the sofa, but also from the bay window, where there is a lovely seating area where you can quietly read a book."
Harmonious look and feel
The furniture was custom-made by Dutch fireplace specialist Warmtestore to match the design of the fireplace, which created a cohesive and harmonious look. Whether you are looking for inspiration to install your own fireplace or just love beautiful interior design, this video is definitely worth watching. Join the family in their atmospheric home and experience the warmth and comfort their new electric fireplace brings.
Faber e-MatriX, the electric ambient fireplaces of the future
A Faber e-MatriX electric fireplace fits any situation, any interior. In this series of short video reports, satisfied e-MatriX customers are happy to tell you more about their personal experiences with Faber's electric e-MatriX and their reasons for buying it. Also want to experience the fascinating fire view of our electric fireplaces? Find your nearest Faber dealer here.