Choosing the fuel type for your fire
4 min read
You would like to enjoy a fire in your home, but which type of fire fuel is best suited to your dream home? There are different options - a wood fire, a gas fire or an electric fire. Discover what suits you best.
A wood fire vs a gas fire
A wood fire is classic and traditional of course, but gas fires make life a lot easier. You don't have to keep adding wood and fuel the fire. A gas fire only requires remote control - you operate the fire, ignition, flame height and the fire effect, simply and accurately with a push on the button. Easy and clean!
You need to buy separate fuel for your wood fire, it needs to be delivered and you need to store it. That does not apply to gas. And talking about fuel, you don't smell a gas fire outside, but a wood fire you often do. The smell of a wood fire is not to everyone's taste and a wood fire produces fine dust too. Those are reasons why wood fires are allowed in fewer areas or bound by specific rules.
A gas fire also requires less cleaning work than a wood fire. For cleaning the glass of the gas fire, it is best to use the special Faber glass cleaner and to comply with the instructions in the supplied manual. Also make sure you have periodic maintenance carried out. That is all. So, a gas fire is low maintenance and comfortable in use compared to a wood fire. Should there be a fault, you just contact the Faber fire specialist.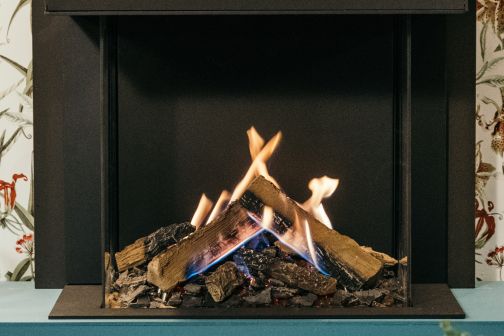 An electric fire
An electric fire offers many opportunities. The Faber e-MatriX is a perfect fit for any home, but of course extremely suitable for houses that do not or no longer have a gas connection or for rooms where a fire used to be impossible, or only at extortionate costs, for example in flats or in extra-care housing.
The inset method of an e-MatriX fire is comparable to a gas or wood built-in fire, but you save on the costs of a flue. The e-MatriX does not emit heat, which means it does not disrupt the climate-control system in your house. The environment is not affected and the fire uses little energy.