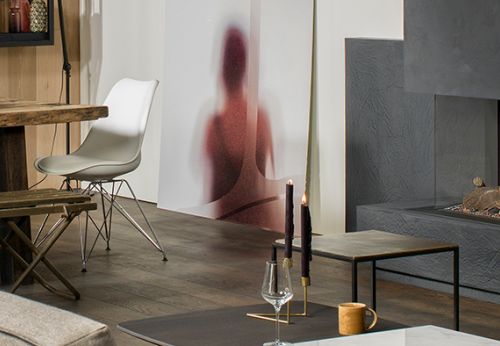 FAQ
Do you have a pressing question about our company or our products? This page gives answers.
Can I buy a fire directly from Faber?
No, that is not an option. The comprehensive Faber dealer network of fire specialists would be pleased to advise you on the Faber fire that suits your requirements.
You can order your Faber fire from one of the authorised Faber dealers.
Click here for all renowned Faber dealers.
Why should I buy a fire or stove from a Faber dealer?
Faber fire specialists guarantee knowledge and professionalism. With their expertise and experience they are able to offer personal, customised and safe advice, focused on your personal preferences and living situation. They generally have a wonderful showroom where you can see the various fires and stoves. 
Furthermore, many of our specialists are able to prepare a drawing based on your requirements. You can see immediately what the fire or stove would look like in your home. 
You can also discuss your requirements for the fire surround.
Where can I ask for a periodic service for my Faber fire? Can I carry out this maintenance myself?
The periodic maintenance of your fire or stove is specialised work. Ask your Faber dealer for advice about the maintenance of your Faber fire.
Click here for an overview of our authorised Faber dealers.
My fire is not working or not working properly. Where can I find an engineer?
Always start by checking that your fire has been connected properly to the mains and that any switches are set to 'on'. Check whether the remote control works, are the batteries fully charged? If this does not solve anything, you can contact the authorised Faber dealer where you bought your fire regarding faults and/or maintenance.
If you cannot remember who fitted your Faber fire, please contact your nearest Faber dealer.
Click here for a list of all our Faber dealers.
Where can I order parts and accessories for my Faber stove or fire?
Faber has many parts and accessories in stock. They are only available from your authorised Faber dealer. They would be pleased to order and fit, if required, the correct product.
Click here for a list of our dealers.
I can no longer contact my current dealer, who will deal with the warranty now?
You can contact one of our other authorised Faber dealers. Parts that come under the warranty are not charged. However, this dealer is likely to charge you for the investigation and repair time.
Click here for an overview of authorised Faber dealers near you.
Which type of remote control do I need for my fire?
The correct type of remote control for your fire is listed under the specifications for the fire on this website; any optional remote controls are also listed.
Click here to go to the list of all our fires.
The remote control for my fire has stopped working, what should I do?
Always start by checking whether you need to replace the batteries in the remote control and replace them if necessary. If this does not solve the problem, please contact your Faber dealer. 
You cannot order the remote control directly from Faber. 
In connection with the heat, we recommend you keep your remote control more than 80cm away from a working fire.
What is the Faber ITC App and how do I install it?
More information about how this app works is shown in this video.
Which cleaning product can I use to clean the windows of my fire safely and properly?
You can clean the windows of your fire quickly and safely with Faber glass polish. This is a special cleaning product you can order from authorised Faber dealers (bottle 500ml / art no 20714600).
Click here for an overview of our authorised Faber dealers.
The pane of my fire has cracked, what should I do?
Should this happen, you can contact your Faber dealer for a replacement pane.
Click here for an overview of authorised Faber dealers near you.
What is a flue calculation and how can I get one?
An authorised fire specialist will make a flue calculation to calculate a properly operating and safe flue. This is specialised work that can be carried out by your Faber dealer. The dealer uses the 'Faber Flue App' and the tables in the fire's installation manual.
Click here to download the Faber Flue app for Apple
Click here to download the Faber Flue app for Android
Could the flue terminate below a thatched roof?
This is determined by legislation and regulations and they may differ from country to country. Therefore you need to consult the installation manual of your fire and the Faber fire specialist. We also recommend you ask your insurance company for any possible additional conditions and clauses.
My gas supplier is changing over to energy-rich gas. Will my Faber gas fire keep working?
All Faber gas fires that have been produced since 1992 comply with CE marking and can be connected to energy-rich gas without requiring conversion.
Download Faber Flue App
Download the Faber Flue app here for:
Download the Faber ITC App
Download the Faber ITC app here for:
Abbreviations
Hereinafter you find a glossary. These abbreviations are used on your invoices for example. Download the list with abbreviations here.