Where will you put the fire? That's up to you!
2 min read
The living room is the most traditional place for a fire, but you're looking for something different? A fire in the bedroom or in the study for example? Faber offers many different models and sizes of fires, so you can enjoy a fire in exactly the part of the house where you'd like to have one. The choice of several fuels makes it even easier! These are your options!
The e-MatriX Fire
The e-MatriX fire is an electric fire that can be inset pretty much anywhere. You don't need a chimney, just a thin, flexible water hose and a socket. This makes it the perfect fire for your bedroom, but also for hotel rooms, holiday homes or offices.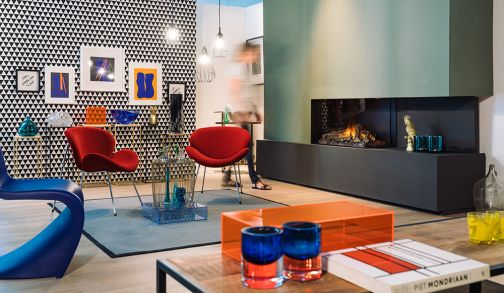 The fire is easy to insert, but also safe in any room. Despite its realistic fire effect, this fire does not provide any heat at all. The three-dimensional fire effect is created by water mist and LED lights.
If you prefer a gas fire?
You can always choose a compact gas fire. Go for a free-standing or compact fire, such as the Faber MatriX 450 models, the Faber Fyn 450 or Fyn 600.